UCC Weekly Bulletin on Ukraine

March 30, 2019
UCC Special: Ukraine's Presidential Elections Updates
This week's top three running candidates are:
Petro Poroshenko, the incumbent President of Ukraine
Yulia Tymoshenko ex-Prime Minister
Volodymyr Zelensky, comedian and political novice
Below please find an assortment of this week's top articles:
Summary of campaign polling results are available here (Wikipedia) 
UCMC Press Briefings for Monday April 1, 2019
10:00 Ukraine civic society monitoring results
11:30 US experts observation
12:30 CANADEM Election Observation Mission to Ukraine
14:00 Russia's influence to the media and internet networks: first overview
15:30 Prospects for the 2nd round: key Ukrainian experts
17:30 Ukrainian World Congress Observation Report
1. Russian Invasion of Ukraine
CAF members demonstrate section patrol techniques to UAF members during Operation UNIFIER at Starychi IPSC. Photo – CF Combat Camera,DND
Ukraine's Ministry of Defense reported that during the week of March 22-28, one Ukrainian service member was killed in action and 4 service members were wounded in action on the eastern front. Throughout the week, Russian-terrorist forces opened fire 62 times including 31 times using heavy weapons on Ukrainian positions on the Luhansk and Donetsk sectors of the front.
Ukraine's Joint Forces Operation headquarters reported that while returning fire, Ukrainian forces killed 15 and wounded at least 19 enemy troops in the last week.
2. Atlantic Council: What to Expect from Ukraine's Completely Unpredictable Presidential Election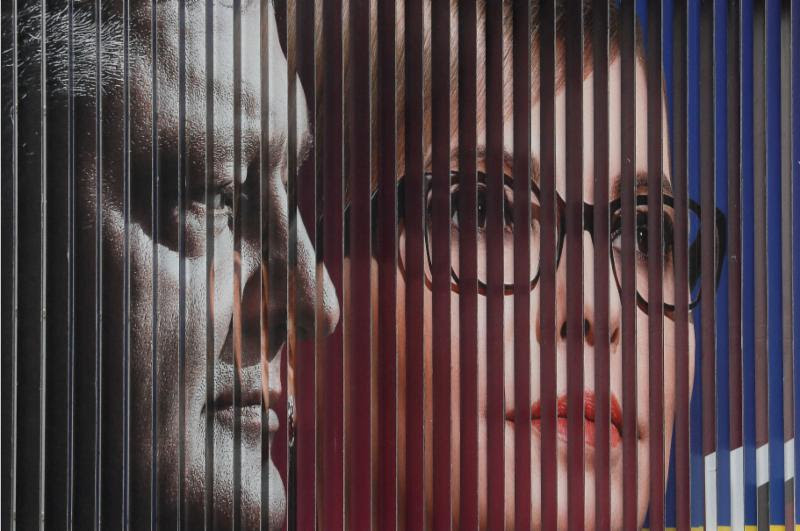 An election campaign poster with portraits of Ukrainian President Petro Poroshenko and former prime minister Yulia Tymoshenko is on display in Kyiv, Ukraine March 4, 2019. REUTERS/Valentyn Ogirenko
The upcoming presidential election in Ukraine, the candidates, and the polling results are the main issues covered by Brian Mefford in his blog at the Atlantic Council. According to Mefford, who offers five predictions about the first round this year's election is likely to be the "cleanest and least fraudulent election in Ukraine's history." It may have something to do with the position of the current Interior Minister Arsen Avakov, as revealing the violations during the current campaign "enhances his political standing in the West and enhances his influence with the Ukrainian electorate," contemplates the author.
Further he talks about various scenarios involving the current top three candidates Zelensky, Poroshenko and Tymoshenko and who is likely to end up running against whom in the second round.
In conclusion, Mefford warns the audience not to jump to conclusions reading the current polls as "the dynamics will be completely different." He suggested that those people who voted for one candidate in the first round may not necessarily support that candidate but cast their vote as a chance to register their disapproval.
Click 
here
 for the full article by Brian Mefford of The Atlantic Council.
3. Canada's short-term election observers arrive in Ukraine
@CanadaFP. As part of @MissionCanada Canada's short-term elections observers and Lloyd Axworthy, head of mission, arrived in Kyiv, Ukraine, joining long-term election observers in their work observing Mar 31 presidential election
On March 26, 110 Canadian short-term election observers, including Head of Mission Lloyd Axworthy, arrived in Ukraine as part of Canada's election observation mission run by CANADEM.
"Election observers directly support democracy, and today, "Canada's short-term election observers will join their long-term observer counterparts and the Honourable Lloyd Axworthy, recently named head of Canada's election observation mission to Ukraine, to begin their work observing all aspects of the upcoming presidential elections in Ukraine," reads the statement released by the Honourable Chrystia Freeland, Minister of Foreign Affairs, and the Honourable Maryam Monsef, Minister of International Development and Minister for Women and Gender Equality.
"Canada has committed up to $24 million to support initiatives in Ukraine that advance electoral reforms, the participation of women and minorities, and inclusive governance. This assistance includes $11 million in support of the Canadian election observation mission and the secondment of Canadian observers to the Organization for Security and Co-operation in Europe election observation mission. In total, Canada will support up to 500 long-term and short-term observers in Ukraine's elections this year.
@MissionCanada CANADEM, UKR2019. Deputy Head of Mission Olya Grod with Mission Canada Short-term Observers
The statement released by Canadian officials emphasized that another $2.8 million has been committed to "counter the negative impact of disinformation propagated by malign actors in the context of Ukraine's elections."
Read the full statement by Global Affairs 
here
4. UWC Elections Mission: Disinformation is a Serious Threat to a Free, Democratic Electoral Process
Eugene Czolij at UCMC press conference on March 26, 2019
Disinformation is one of the most serious threats to a free democratic electoral process, noted Eugene Czolij, the Head of Ukraine World Congress International Observation Mission to Ukraine's 2019 Elections (UWC Mission) and former president of UWC. He held a press conference at Ukraine Crisis Media Center in Kyiv on March 26 to present the 
UWC's interim report
.
"The disinformation campaign is not confined to the Ukrainian information sphere and is widespread throughout the world with the goal of disillusioning Ukraine's allies," said the Head of the UWC Mission.
When talking about the UWC Mission he emphasized that it was unique in its composition and scope, consisting mostly of Ukrainian-speaking observers. It includes long-term observers (LTOs) who carry media monitoring outside of Ukraine and short-term observers (STOs) who monitor the electoral process both in Ukraine and at Ukrainian diplomatic missions abroad, highlighted Czolij.
In addition to the current 
interim report
 the UWC Mission will be issuing two more reports: Preliminary Observations the day after the election on 1 April 2019 and Final Report eight weeks after the election.
The UWC Mission is also working closely with the observation mission of the its member organization – Ukrainian Congress Committee of America (UCCA), which has deployed 77 STOs. Together, the UCC and UCCA boast the second largest after the OSCE contingent of election observers deploying 296 STOs from 17 countries, 122 LTOs observing elections in diplomatic representations of Ukraine in 24 countries. The findings of both missions will be integrated into the Final Report of the UWC Mission. A link to the press conference is available in 
English
 and 
Ukrainian
.
5. ABC News: Russian security forces raid homes of Crimean Tatars
FSB raids Crimean Tatar homes. Screenshot from video on censor.net.ua
On Wednesday, March 27, Ukraine's human rights ombudswoman reported that the Russian state security service (FSB) arrested seven Crimean Tatars who were predominantly Muslim. The Ukrainian Ministry of Foreign Affairs criticized the raids as violations of human rights. The Russian intelligence agency claimed that it was searching multiple homes for members of a banned (in Russia) extremist organization Hizb ut-Tahrir.
Russian security forces have been targeted members of the group even since Russia invaded and illegally annexed Crimea in 2014.
6. AFP: As Conflict Drags On, Ukrainians Spurn Russian Culture
Open Source
Agence France-Presse (AFP) offers an article about how Ukrainians have become increasingly disengaged with the Russian language and culture, since the beginning of Russian aggression against Ukraine. Interviewees talk about how they "like the vast majority of Ukrainians, would watch Russian movies and TV programmes and listen to Russian music." But then in 2014 many started considering cultural products made in Ukraine and it became the point of no return.
"Moscow always had more money, more opportunities, and the older wave of Ukrainian artists was influenced in a way by the Moscow public, Moscow tastes, Moscow dealers," said Kostyantyn Doroshenko, an influential Ukrainian art critic. "Five years ago, however, Ukrainian artists refused to participate in a major biennial in Russia [and] I saw with my own eyes how this Russian prestige broke down in a flash," he noted.
Russian cultural products became less popular in Ukraine for several reasons including the personal boycotts of Ukrainian population and restrictions imposed by the government. Some see modern Russian movies as a tool to promote the Kremlin propaganda and imperial ambitions.
"No matter what the story is about, there's always a promotion of the idea of making Russia great again," said Ukrainian sociologist Kateryna Ivaschenko.
Now Ukraine is paying more attention to developing domestic film industry that demised after Ukraine adopted independence allocating a record one billion hryvnia [about CAD 50 million] in 2018 for "film production compared to just 25 million hryvnia in 2014.
Read the full article by AFP 
here
7. NYT: Russia Tests New Facebook Tactic in Election Tampering
Picture courtesy of technewsworld
On Sunday, March 31, Ukraine will hold the 2019 presidential elections. With several days left before the voting the Ukrainian State Security Service (SBU) uncovered another Russian plot that was supposed to undermine the elections using Facebook.
"Unlike the 2016 interference in the United States, which centered on fake Facebook pages created by Russians in faraway St. Petersburg, the operation in Ukraine this year had a clever twist. It tried to circumvent Facebook's new safeguards by paying Ukrainian citizens to give a Russian agent access to their personal pages," reads the New York Times article
SBU provided footage of the interrogation where a person who identified himself as a Russian agent was looking for people in Ukraine who would be willing to rent or sell their Facebook accounts. The goal was to use access to these accounts to publish articles or buy political ads.
"Facebook officials insisted that the company is ready, reminding that […] in January it announced the takedown of a coordinated effort involving nearly 150 fake accounts, which appeared to mimic a disinformation campaign by Russia's Internet Research Agency during the 2018 midterm election campaign in the United States. On Tuesday, the company announced another takedown involving nearly 2,000 Russia-linked pages, groups and accounts, some involved in posting disinformation about Ukraine."
To read the New York Times article click 
here
8. Ukraine's SBU Averts Russian Hacker's Attack on Ukrainian Media and Disrupts Operation of Fake UPA and UNA Groups Run from Russia
Picture is a Youtube screenshot from Live Hacking Attack
On March 29 the State Security Service (SBU) has released a statement about yet another insidious plan by a group of hackers controlled by the Russian intelligence agencies to launch cyberattacks on popular media and telecommunication facilities in Ukraine on the eve of the presidential election.
According to the SBU press service in the past few months hackers created an Internet infrastructure of several dozen domains whose names coincide or are similar to the official domains of popular Ukrainian electronic media, telecom operators and large telecommunications companies. These domain names were first spotted on the servers of several Russian Internet service providers, and the accounts used for their registration were used for cyberattacks at government agencies during 2018.
SBU believes that the intention of the cyberattack was to create "maximum public resonance and negative informational influence on the eve of the election of the President of Ukraine."
Photo – SBU press service
Today, the State Security Service of Ukraine (SBU) press service also announced that it halted the activities of Russia-led extremist organizations which aims to destabilize the situation in Ukraine during the election.
Members of these groups received a task from the Russian special services to create the "Ukrainian Insurgent Army" (UPA) and the "Ukrainian National Army" (UNA) paramilitary formations.
Photo – SBU press service
The groups were coordinated by the native of the Russian Federation, Rustam Tashbayev, the Kaliningrad Naval Academy graduate and now a US citizen who was expelled from Ukraine in 2015 for subversive activities. According to SBU, the UNA was headed by a local resident Yuriy Zabolotny, who was repeatedly detained by National Police officers for illegal storage of weapons and robbery. An agent from Russian special services Mykola Dulsky supplied cash for extremist activity.
9. Interview with UCC CEO on #KyivnotKiev
Ukrainian Canadian Congress CEO Ihor Michalchyshyn spoke with CBC Radio earlier this week about the move by Toronto's Pearson International Airport to adopt new spelling for Ukraine's capital city.  He also touched upon the majorsignificant issues of concern for Ukrainians in Canada.