In this issue:
UCC Strongly Condemns Sentencing in Russia's Sentsov/Kolchenko case

Featured Ukrainian Canadian: In Memoriam Yaroslaw Czolij (1932-2015)

Black Ribbon Day Commemorations

2015 Paul Yuzyk Awards

2015 UCC Annual General Meeting on September 25-27 in Ottawa

Upcoming Ukrainian Festivals

Call for Volunteers
Thanking our Corporate Sponsors
---
UCC Strongly Condemns Sentencing in Russia's Sentsov/Kolchenko case
August 25, 2015 – Ottawa – The Ukrainian Canadian Congress (UCC) strongly condemns the verdict and sentencing handed down today in Russia's show trial of Ukrainian filmmaker Oleh Sentsov and Ukrainian activist Oleksandr Kolchenko.
A Russian court in Rostov-on-Don, ignoring all evidence exonerating the two men, found guilty and sentenced Sentsov to 20 years in prison and Kolchenko to 10 years in prison on fabricated charges. The "verdict" was reached despite the fact that there is no credible evidence against either man, and in spite of the fact that key prosecution witness, (Gennady Afanasyev) recanted his testimony in court, and stated that the evidence he gave was obtained under torture.
Sentsov and Kolchenko, Ukrainian citizens, were illegally abducted by the Russian security service following Russia's invasion and occupation of Crimea. Russia has neither the jurisdiction nor the authority to detain, try, or sentence them. Russian investigators also ignored credible evidence of the torture of Sentsov and prosecution witness Afanasyev by Russia's Federal Security Service (FSB).
The Sentsov/Kolchenko "verdict" and sentencing continue the Soviet tradition of convicting and condemning to long sentences innocent people whose only "crime" is to resist the tyranny of the regime and to stand for the principles of truth and justice.
Sentsov and Kolchenko have shown remarkable bravery and strength. Imprisoned for over a year, they have not been broken, despite torture and pressure by Russian authorities. After the sentences were announced, the two men, in an act of courageous defiance, sang Ukraine's national anthem.
"The Sentsov/Kolchenko trial is a further example of the lawlessness into which Russia has descended under Putin. Russia continues it war against Ukraine, and continues to illegally imprison those who oppose this aggression," stated Paul Grod, National President of the UCC. "Today's verdict illustrates the contempt for human rights and the rule of law that has become the hallmark of Putin's regime. This was not justice – this was a Stalinist show trial."
The Ukrainian Canadian Congress calls on Canada and her allies condemn this travesty and to use their international influence to ensure the immediate release of Sentsov, Kolchenko, MP Nadiya Savchenko, and other Ukrainian political prisoners currently illegally imprisoned by Russia. The UCC further calls on Canada and her allies to institute sanctions against those Russian officials responsible for their imprisonment.
___________________________________________________________________________
Featured Ukrainian Canadian: In Memoriam Yaroslaw Czolij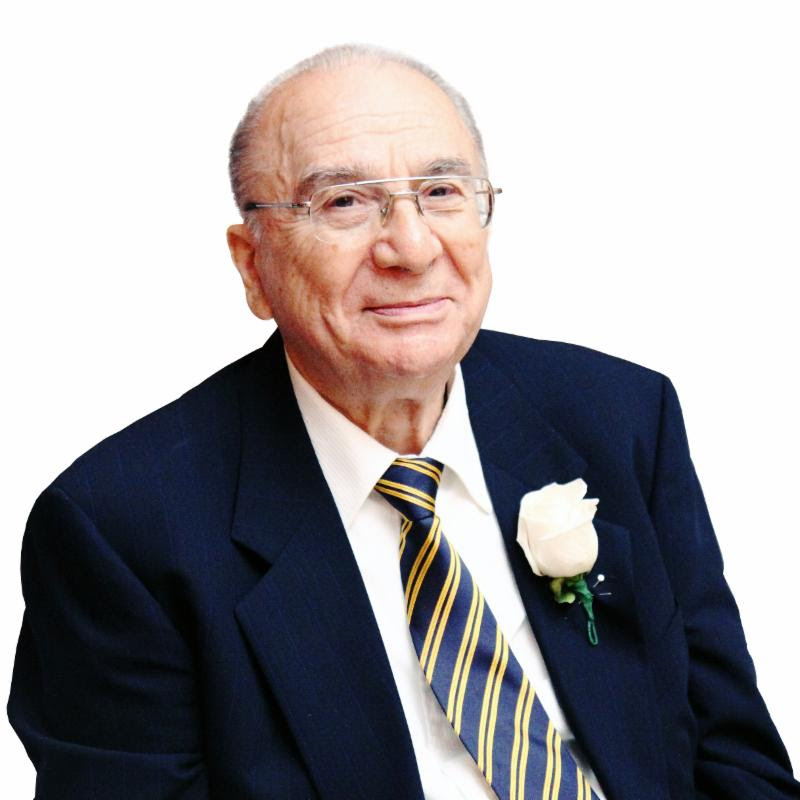 (1932-2015)
The Ukrainian Canadian Congress is saddened and expresses sincere condolences on the sudden passing of Yaroslaw Czolij – a well-known Ukrainian community activist in Canada and father of Ukrainian World Congress President Eugene Czolij.
The death of Yaroslaw Czolij is an unbearable loss for both his family and the Ukrainian community: departed is a true son of the Ukrainian nation, whose life was dedicated to the rebirth and development of an independent Ukrainian state and strengthening Ukrainian community life in Canada.
Yaroslaw Czolij was born in 1932 in the village of Cherche, Rohatyn region. However, with the invasion of Soviet forces he emigrated to Canada with his parents. Upon earning a Bachelor of Mechanical Engineering from McGill University in Montreal,Yaroslaw Czolij worked for many years as an engineer, first in the aviation industry designing and building aircraft, and later on the above-ground metro.
For over 40 years,Yaroslaw Czolij held leadership roles in the Caisse populaire Desjardins Ukrainienne de Montréal, including the positions of President, Secretary and General Manager. He was also Vice President of the Council of Ukrainian Credit Unions of Canada and actively participated in the development of the credit union movement in Ukraine.
Yaroslaw Czolij was a long-term Vice President of the League of Ukrainian Canadians and President of the Montreal branch. He was also a member of various committees of the Ukrainian Canadian Congress, organized humanitarian assistance for Ukraine and served as a technical advisor on the construction of Ukrainian churches and institutions in Montreal.
For his many years of community involvement,Yaroslaw Czolij was awarded the Ukrainian Canadian Congress Shevchenko Medal.
The Ukrainian Canadian Congress offers sincere condolences to his wife Marika, his children, grandchildren and great grandchildren, in prayer for the soul of the late Yaroslaw Czolij.
MAY HIS MEMORY BE ETERNAL!
Відійшов у вічність св. пам'яті інженер Ярослав Чолій (1932-2015)
Конґрес Українців Канади висловлює глибоку скорботу та співчуття у зв'язку з раптовим відходом у вічність св. пам'яті інженера Ярослава Чолія – відомого українського громадського діяча в Канаді та батька Президента Світового Конґресу Українців Евгена Чолія.
Смерть св. пам'яті Ярослава Чолія є непоправною втратою як для його родини, так і для української громадськості: з життя пішов справжній син українського народу, життєвий шлях якого був наповнений самовідданою працею для відновлення і розбудови Української незалежної держави та зміцнення українського громадського життя в Канаді.
Св. пам'яті Ярослав Чолій народився в 1932 р. в c. Черче Рогатинського району. Однак з приходом радянської влади разом з батьками емігрував до Канади. Отримавши ступінь бакалавра в Університеті Маꥳлл у Монтреалі, св. пам'яті Ярослав Чолій тривалий час працював інженером, зокрема у сфері проектування і конструювання літаків, а відтак наземного метро.
Понад 40 років св. пам'яті Ярослав Чолій займав провідні позиції в Українській Народній Касі Дежарден як голова, секретар та головний управитель, а також був заступником голови Української Кооперативної Ради Канади та активно долучався до розвитку кредитного руху в Україні.
Св. пам'яті Ярослав Чолій був довголітнім заступником голови Ліґи Українців Канади та головою її відділу в Монтреалі. Рівнож працював у різних громадських комітетах Конґресу Українців Канади, організовував всебічну гуманітарну допомогу Україні та був технічним дорадником у справі будівництва українських Церков та установ у Монтреалі.
За довголітню громадську працю св. пам'яті Ярослав Чолій був нагороджений Шевченківською медаллю Конґресу Українців Канади.
Конґрес Українців Канади молиться за упокій душі св. пам'яті Ярослава Чолія разом з його дружиною Марійкою, дітьми, онуками і правнуками.
ВІЧНА ЙОМУ ПАМ'ЯТЬ!
___________________________________________________________________________
Black Ribbon Day Commemorations
August 21-23, 2015 – Organized by the Central and Eastern European Council (CEEC),Canadians took part in Black Ribbon Day Commemoration events being held across the country. The CEEC represents the interests of 4 million Canadians of Central and Eastern European heritage.
In November 2009, Canada's Parliament unanimously passed a resolution to establish an annual Canadian Day of Remembrance for the victims of Nazi and Soviet Communist crimes on August 23, called "Black Ribbon Day", which coincides with the anniversary of the signing of the infamous Molotov-Ribbentrop Pact between the Nazi and Soviet Communist regimes.
"The brutal war of aggression that the Russian Federation is waging against Ukraine is a stark reminder to us all that the cause of freedom and democracy must be defended. A quarter-century after the fall of the Berlin Wall and Soviet Communism, Eastern Europe is again under threat from Russia's imperialism and despotism," stated Paul Grod, National President of the UCC. "As we commemorate Black Ribbon Day, we remember the victims of Nazi and Soviet tyranny, and we stand with people of conscience the world over in ensuring that these horrendous crimes are never again repeated."
The UCC expresses its gratitude to the Central and Eastern European Council for their strong support of the people of Ukraine as they defend their country against Russian aggression.
Events took place in the following places:
Montreal
Date: Friday August 21st, 2015
Time: 20:00 (8PM)
Place: Holy Trinity Church (Polish Catholic Church)
Address: 1660, rue Centre,  Montreal, QC H3K 1H6
Ottawa
Date: Sunday, August 23, 2015
Time: 6:30pm
Place: St. John the Baptist Ukrainian Catholic Shrine
952 Green Valley Crescent (off Prince of Wales and Baseline)
6:30 pm – Memorial Service (for the victims of Soviet Communism and Nazi tyranny)
7:00 pm – Program with Keynote Speaker
Toronto
Date: Sunday, August 23, 2015
Time: 1pm
Place: Masaryktown Park
Address: 450 Scarborough Golf Club Road, Toronto
at the Monument to the Victims of Communism
Winnipeg
Date: Friday  August 21st, 2015
Time: 12pm
Place: Manitoba Legislative Building
Photo Credit: Norbert Iwan
Edmonton
Date: Sunday, August 23
Time: 3pm
Place: Legislature Building
Address: 10800 – 97 Avenue
Vancouver
Date: Sunday, August 23
Time: 12:00 pm (after service at 11:00 am)
Place: Holy Eucharist Ukrainian Catholic Cathedral.
Address: 501 4th Ave (at 6th St) New Westminster
___________________________________________________________________________
2015 Paul Yuzyk Awards for Multiculturalism
August 4, 2015 – Toronto – The 6th Annual Paul Yuzyk Awards for Multiculturalism were presented to Canadians who have made exceptional contributions to multiculturalism and the integration of newcomers.
Honouring the late Senator Paul Yuzyk, this award commemorates his pioneering legacy in establishing multiculturalism as one of the fundamental characteristics of Canadian heritage and identity. In his first speech in the Senate, Paul Yuzyk said, "Canada has become multicultural, in fact; in keeping with the ideals of democracy and the spirit of Confederation, Canada should accept and guarantee the principle pf partnership of all peoples who have contributed to her development and progress."
In the category of Organization, this year's recipient is the Canadian Ethnocultural Council (CEC), of which the Ukrainian Canadian Congress is a member, National President Paul Grod serves as director and Mr Wasyl Luczkiw serves as Chairperson of the Youth Forum. "The Canadian Ethnocultural Council is the only not-for-profit, non-partisan, national coalition of national ethnocultural organizations dedicated to working together for the purpose of promoting intercultural dialogue and furthering the understanding of the mutilcutural reality of Caanda and thereby ensuring  equality of opportunity, rights and dignity for all Canadians" stated Dominic Campione, President of the Canadian Ethnocultural Council.
The other winners included Priya Saha in the Youth category and Dr. Jawahar Kalra in the Lifetime Achievement category.
___________________________________________________________________________
UCC Annual General Meeting will be held September 25-27, 2015
The UCC kindly reminds the community that the Annual General Meeting is taking September 25-27, 2015 at the Lord Elgin Hotel in Ottawa. Organizers have been busy preparing an engaging weekend of ideas, dialogue and decision-making.
___________________________________________________________________________
Upcoming Ukrainian Festivals
September 11-13: Montreal Ukrainian Fest
September 18-20: Bloor West Village Toronto Ukrainian Festival
___________________________________________________________________________
CALL FOR VOLUNTEERS
Get involved in the Ukrainian community and help make a difference. The UCC depends on a network of volunteers across the country and we need you to become involved at the local, provincial and national level. You can become more involved by participating in UCC Committees.
Please sign up to volunteer with the UCC by emailing: [email protected]